One of the AWH programs is providing quarterly assistance of P15,000 (P60,000 annually) to DSWD (Dept. of Social Welfare & Development) to support the Alfonso community. On Nov.17, 2021 DSWD Head of Alfonso, Cavite Gina Vedan invited AWH General Manager Raymund Balicha for the distribution of some of the items purchased with the quarterly support.
A computer set was provided to John Arnejo, a 21 year old third year student majoring in Hospitality Management at the De La Salle University, Dasmarinas, Cavite. In 2017 he was a minor who got in conflict with the law and was ordered by the Court to the custody of DSWD. He was recently ordered by the Court to go back and assist his mother. She is struggling with breast cancer and has not visited the doctor for quite a while due to financial constraints while struggling to take care of her six children after the father passed away last year. The computer will allow him to continue his schooling through online learning while still making some meager income for his family with nearby farming. He was very appreciative of the lifeline provided to him and his family.
After presenting the computer set to John, Gina and her team headed with Raymund to another DSWD facility for children who have been in conflict with the law located at the Alfonso police station. There she had purchased a double deck bed and bed foams for 4 male teenagers who had been ordered by the Court into DSWD custody. Again, the four boys were appreciative that they had a place to sleep. One of the double deck beds already there had been donated by AWH already directly some years ago.
Updates on December 22nd, 2021
AWH has decided to support John with monthly assistance of P2,500 so that he is able to continue his study at the college.
Gina of DSWD Alfonso and Raymund went to the residence of John Lorenze Arnejo in Kaytitinga 1 in Alfonso, Cavite on December 22, 2021 to give the first monthly financial support of P2,500. AWH also provided his family a sack of rice, assorted canned goods and biscuits for Christmas.
In our visit, he showed us the computer that AWH donated for his online studies during the pandemic.
He was about to quit schooling to support his family but Gina of DSWD vowed to help him finish his studies for a brighter future.
Gina advised John to study well since AWH is supporting him for a year and she also extended her gratitude to AWH for assisting him in his schooling.
Updates on January, 2022
John Lorenze Arnejo who is under the Children In Conflict with the Law (CICL) program of DSWD received his support of P2,500 for the month of January from Academy of World Healing Foundation (AWH).
He thanked AWH for the assistance. He said the financial assistance will help him in his schooling and his family in the pandemic.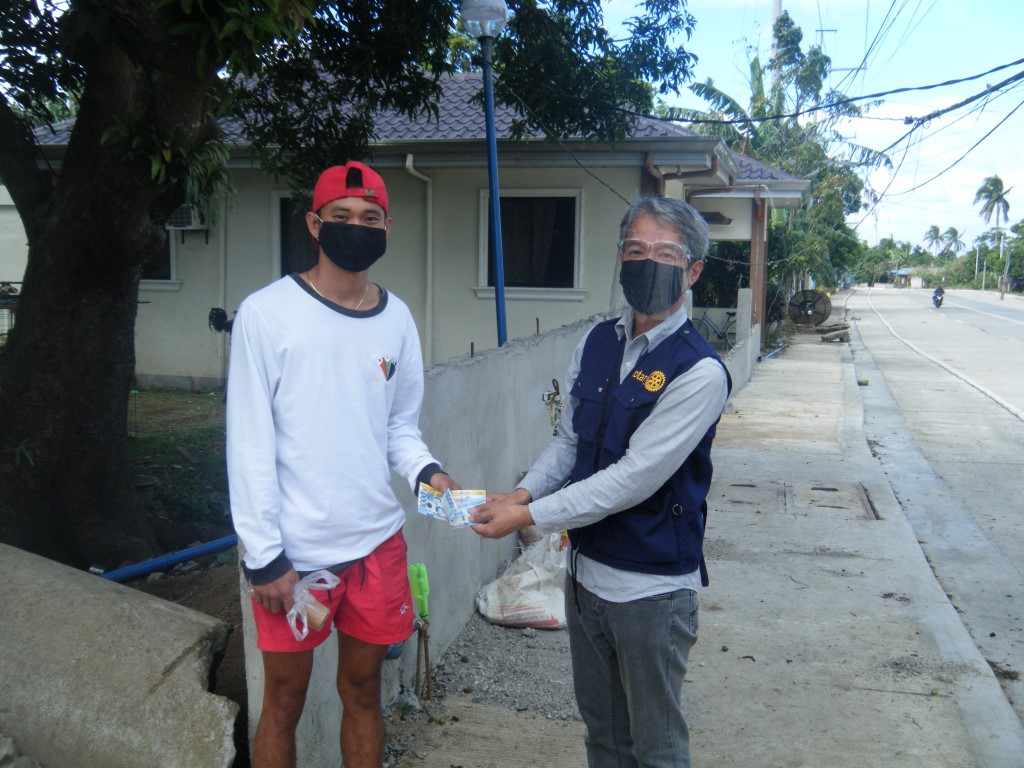 Updates on February, 2022
John Lorenze Arnejo received his P2,500 monthly assistance on February 20,2022 for the needs of his schooling in college and his family.
He and his mother, who is suffering from breast cancer, thanked the Academy of World Healing Foundation (AWH) for their assistance during the Covid-19 pandemic.